What Is A Paralegal – How To Become A Paralegal 2020 Guide
What Is A Paralegal?
Anyone having an associate degree in criminal justice can become a paralegal assistant. And to understand what is paralegal?  We may tell you that Paralegal assistant is a person assisting an attorney in a law firm. They do all the paper work like preparing a case, handling documentation for preparation of trail and assisting attorney during the trial. A paralegal also do legal research to gather case evidences and may also prepare presentations for clients.
So we can say that "a person trained in subsidiary legal matters but not fully qualified as a lawyer" is a paralegal assistant.
How To Become A Paralegal
Who is paralegal ? 
Paralegal do all the paper work to provide assistance to attorneys. They prepare the case before trial and gather all the information about the case.
A paralegal is responsible for all the paper work and have all the information about case but they have limitations to their duties. They can't charge any clients for a case . Only attorney can do that.  They can't represent case in court on behalf of a client. This is also a duty of lawyer.
Paralegals are like right hands of lawyers and know how the law works in papers. They do research about case,  document it properly,  make drafts, case files,  writes reports and assist their attorneys during court trial.
Outside court room,  paralegals will assist attorneys in making other legal documents like making wills,  agreements and contracts. They will also interview the witness and clients and will make communication with clients.
Although paralegals hold important responsibility of making and handling legal documents,  they are not allowed to "
practice law
" neither they can advice any client on their own.
Charging fees and the choice between whether or not to accept the case are also restricted for paralegal and will be decided by attorney only.
Steps For Becoming A Paralegal 
When you have decided to choose a career of paralegal,  trust us its not tough to be one. With little guidance we assure you a promising career ahead. Following are the steps to become paralegal
Get A Professional Certification
To attend a paralegal degree or certificate is must as being a paralegal requires some formal education.
Any one can achieve associate degree of two years in paralegal but some institutions offers four years bachelor's too.
Individual can also achieve  certificate after associate degree in criminal justice. Certification will take months and one can save years of studying.
However , government institutions recommend individuals to achieve bachelor's degree for better growth and career chances.
Individual can go for bachelor's degree in both legal and paralegal studies.
Professional organizations like NALA( national association of legal assistants) and NFP (national federation of paralegals)  recommend a degree approved by American Bar Association.  A professional degree will offer you an exciting career and promising future ahead. Good luck!
Don't Forget Internship 
After achieving a  degree, sometimes getting a job can be delayed due to numerous reasons. It is better to do internship somewhere. Whether paid or unpaid,  it will always add a valuable experience to your career and will help you later in job.
Handling legal documents is not as easy as it seems. Practical implication of theoretical knowledge will teach you many secrets of actual field.
Get Hired
Different banks, insurance companies , real estate firms, legal departments of corporation , law firms and trade organizations hire paralegals . After internship your chance to get hired increase significantly.
Also all the major consumer companies,  federal and state agencies,  public prosecutors offices and community legal departments hire paralegals. You will handle all their legal processes and documentation. So get yourself hired.
Get Yourself Trained While Working On Job
Training is always important. It keeps on adding knowledge of field for betterment. Training makes you better and help you to learn more about your job.Professionally, training upgrade both your skills and knowledge.
With a good training session you can get your self promoted to higher management positions. More over, training polishes you and give you better view and understanding of your job. You get to know yourself professionally and it makes your career choices easier. With training you will get to know the aspects of your field and your area of interest and expertise.
It will enhance your career and your chances for next job gets better.
Other Helpful Skills And Experience 
You can also go for other added certifications. National association of legal assistants and American paralegal association offers different certification in the field.
These certifications help you to grow professionally. You get to know minor details of your work and your excellency in job assure promotions and up gradation.
Certifications also keep you up to date with technology and field work.
Type Of Paralegal Careers
Paralegals offer their services to legal public and private organizations. They handle all the documentation and legality involved in it. They assist attorneys during trials,  meetings and hearing. There are many career choices according to your preferences. Following are some of them.
1.Corporate Paralegal 
Planning transactions and handling business matters at corporate level is a duty of paralegal assistant. They ensure that company has all the necessary paperwork done that can save them from legal red flags.
They will look for all the "business" matters of company. A paralegal must have all the required knowledge of contracts,  mergers,  acquisitions, investments,  security and financial matters of business.
2.Bankruptcy Paralegal 
Becoming a bankruptcy paralegal can be a complex job. A paralegal act as a third party between someone who owes money and the organization whose money is on stake. Dealing all the legal issues between a creditor and debtors is done by you.
You can hold meetings,  handle drafting, petitions and take interview from both parties.  Moreover a paralegal can also do some research for the sake of information to ensure safety from bankruptcy.
3.Criminal Law Paralegal 
Criminal law paralegals also known as criminal defense paralegal build cases in favor or against convicted. They support and help criminal defense prosecutors and lawyers.
Their job description is same as other types like handling documentation  building a case, interviewing witnesses and communicating with clients. But they are specific to build a case against or in favor of convicted people. They are also known as Criminal litigation paralegal or criminal paralegals.
4.Immigration 
Immigration paralegals work with attorneys who handle immigration processes. Their work includes assisting attorney in helping citizens through immigration processes,  deportation,  handling foreign documents and handling the process of child adoption from abroad.
They also make sure the citizens entering US or moving out raise no red flags.
5.Legal Assistant 
A legal assistant is actually a certified paralegal. A legal assistant do all the work that a paralegal do like handling documentation and assisting attorneys during trials and gathering case information but only individuals who have certification from national association of legal assistants can use the term "legal assistant " for them.
6.Legal Secretary 
A paralegal job has many dimensions. Legal secretary is one of them. A legal secretary provides administrative support to legal attorneys. A paralegal look for documentation of legal documents and handle the legal issues. Whereas a legal secretary handle the administration part . They work for attorneys and according to their demand. They will attend calls,  arrange meetings,  set appointments and reminders. Paralegal holds general duties whereas a legal secretary look for day to day tasks and handle routine work.
7.Litigation 
Litigation paralegal assist attorneys during litigation process. With all other routine work they look for facts in case building. They prepare the necessary documentation,  interview the witnesses and look for facts to prepare a case. They also sometimes act as liaison between the parties and may also work in settlement issues. Litigation paralegals work all the pre-trial and during trial processes to assist their attorneys.
8.Personal Injury 
Medical and insurance claims are dealt by personal injury paralegal. A personal injury paralegal must have knowledge of documentation in medical field also as it will be helpful during building cases. They will also ensure the timely admission of legal documents to court. A paralegal will build case, do proper research,  keep record of everything needed,  and may act as liaison between the parties.
Related careers in the United State court system 
If you are interested in working with in courts and with lawyers,  there are many career options. Although you may need different type of certification for these courses. And it may take different duration to complete the courses but it will satisfy your choice to work within court system. Other than being paralegal you can become
Why becoming a paralegal is promising career choice?
 Paralegals are important part of any legal team. They handle important tasks. Their work can be exciting and fun as well if they have keen interest in investigations,  documentation or doing research. A paralegal will also enjoy working with other legal professionals and it will create more diversity in their work field.
Every law firms will always need assistance and paralegals are always welcome. According to American Bar association a paralegal is " a person qualified by education , training or work experience who is employed or retained by a lawyer , law office , corporation, government agency or other entity who performs specifically delegated substantive legal work for which a lawyer is responsible".
So we can't deny the importance of role and position of paralegal.  And with experience and certifications,  a paralegal can be promoted to higher positions.
Interesting and engaging work environment 
A paralegal job can be fun and very interesting for people who want to pursue their careers with in court systems. They do not only handle legal documentation but also enjoy the work of a lawyer. A paralegal can do what a lawyer can do except accepting case and setting fees. Also they cannot give legal advice to clients and can not represent their case in court but trust us their work is back bone of any case that a lawyer will build.
Their job includes some interesting duties as well like interviewing clients and doing investigation. Any one with the interest will love the job for sure.
Many Options for education 
Most schools and universities offer a degree or certification in paralegal studies. Some offer two years associate degree while others have four years bachelor degree.
A person can also earn certification in paralegal after earning two years associate degree in criminal justice.
But Bachelor's degree is recommended for promising professional growth.
We recommend you to earn paralegal degree from institutions who provide American Bar association approved certification. It will ensure quality education and exciting future.
Strong employment outlook 
There is no need to build a case or go for trials always. Coming in law firms does not mean that one have matters to be solved in court only. People do need legal documentations in daily life. A paralegal can do all this work as a lawyer but charge less than what attorneys charge per hour.
A need of paralegal will always be there. According to a survey report,  paralegal jobs in US expect the growth rate of 15% till 2026.
Competitive Salary and benefits 
 A survey taken by national association of legal assistants concluded that paralegals have average salary of $67,000.
According to BLS,  the average salary for paralegal is $50,000. They also reported top 10% to earn more than $82,000 a year.
A paralegal salary depends on many factors like their educational background,  work field experience, additional certifications, who hired the paralegal ? Or for which firm they work for and even the geographical allocations.
Jobs also includes other benefits like medical insurance , dental insurance,  reimbursements of medical bills,  paid leaves and even free training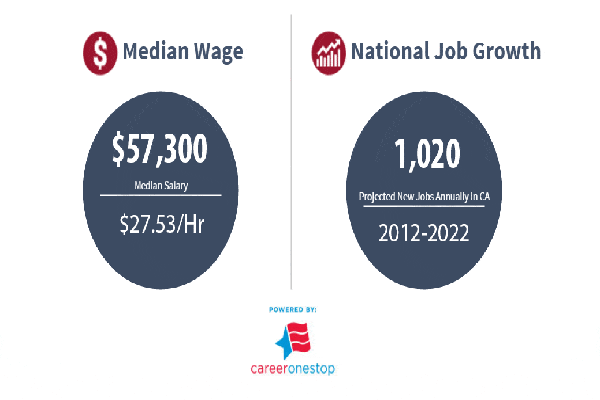 sessions.
Geographical allocations affect the salaries of paralegals. Major cities pay more than others.
You can earn a paralegal certification after two years associate degree. And start  promising career as starting salary is better.
Major cities have more demands of paralegals. Some major US cities have following average Per annum salary.
New York: $59,000 Approx
Florida: $57,000 Approx
Texas: $ 57,000 Approx
California: $ 61,000 Approx
Illinois:$ 57,000 Approx
If you have decided to choose the career of becoming a paralegal, trust us it is a wise choice. And we wish you all the best and good luck with your future .
Sources: