How To Become A K9 Police Officer Career Requirement and Salary Guide
Dogs have long been seen as "man's best friend." Hence, it seems logical that they can provide a great deal of assistance to law enforcement agencies through their superior sense of smell and agility, among other very helpful attributes. The use of canines in America has been around for over a century now and has made the jobs of law enforcement agencies jobs a great deal easier.
An example of this is the TSA or ATF who has dogs stationed at airports that are able to detect illegal substances, such as drugs, with close to 100% accuracy.
In recent years Dogs are being employed more and more by various law enforcement agencies. However, before a dog can become a part of the k-9 unit, it must undergo special training. This training and certification are conducted by the United States Police Canine Association (USPCA).
Here we will try to answer questions you may have about What a K9 unit is, what a K9 Unit's requirements are, and how to join the K9 Unit.
What Is A K-9 Unit
A K-9 unit is called in whenever there is the need for a specially trained canine for General Patrol Dog use, Tracking, Protection, Narcotic Detection, Explosive Detection, Arson & Search and Rescue.
The K9 unit is comprised of dogs as well as trained human law enforcement officers that work closely with police dogs. K9 officers may be involved in the enforcement of local, state, or federal laws. This is dependent on the area in which they work. 
Different officers within the K9 unit have different duties depending on their division and the type of police dog they handle. E.g., a Federal K9 Unit officer may work in the detection of explosives, whereas an airport K9 officer may search for illegal narcotics.
K9 officers are required to have the skills to keep their police under control at all times. Otherwise, these highly trained animals could cause harm and lead to legal consequences for the department leading to the public's trust in the department reducing. Officers of the K9 Unit not only look after their police dog whilst working but also at home. K9 officers essentially serve as the dog's handlers and are responsible for its care. 
The K9 unit officers also need good investigative and interpersonal skills to work with animals, citizens, and other law enforcement officers.
K-9 Unit Requirements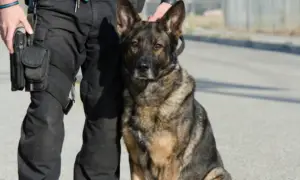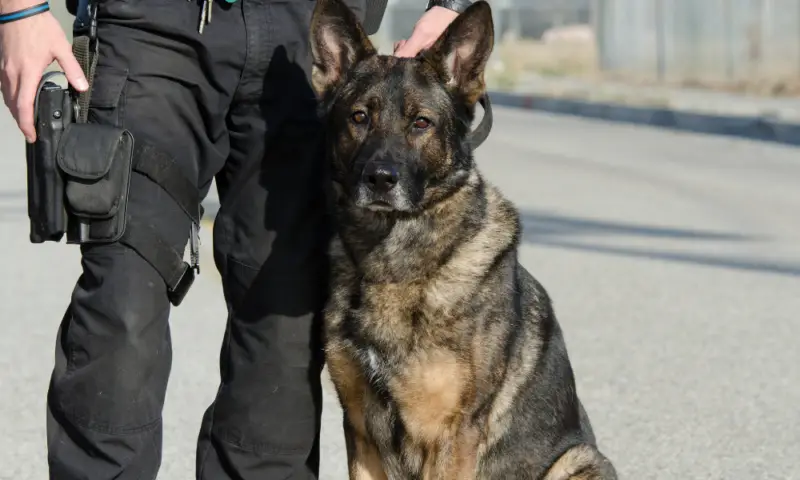 K9 officers need the same skills as other police officers, in addition to skills in animal handling. Below is a list that covers the basic K9 unit officer requirements:
Animal Handling– This job requires daily interaction with police dogs, demanding that they have animal handling skills. Although the dogs are put through several training programs at the end of the day, they are still animals who must be kept under a watchful eye. Your police dog should be treated with a level of respect and as a co-worker/ partner, not a simple tool.
Investigation– K9 unit officers will often find themselves responding to calls at crime scenes and searching for evidence. While maintaining control of their police dog, K9 officers will have to secure crime scenes, safely and carefully collect vital evidence, and bring in said evidence for detailed analysis.

Interpersonal Skills

– Officers are responsible not only for their own safety but also for their police dogs. It is paramount that the officer can remain vigilant of their environment and any possible threat. Dog handlers often visit schools and other areas where there is no immediate threat here. They should keep a friendly and professional demeanor.
Communication– K9 unit officers are the rare type of law enforcement officers as they have received training with animals. Therefore, they have a particular responsibility to communicate their police dog to the other officers present. Not only must they pick up on what their dog may be telling them, but they also need to be able to communicate clearly with citizens and other law enforcement professionals. 
Physical Fitness– like many law enforcement officers, K9 officers must emphasize the maintenance of their physical health. Police dogs must be kept in peak physical condition, and the responsibility for this falls upon the K9 officer. Officers must regularly exercise with their police dog to build strength, stamina, conditioning, and keep them used to their job's physically demanding nature.
K9 Officer Daily Tasks
The day-to-day tasks of a K9 officer closely mirror those of several other law enforcement agents, with the great addition of a trained K9 dog.
Handling, training, and caring for a police dog partner
Responding to emergency and non-emergency calls for law enforcement officials
Interviewing suspects and witnesses to collect evidence
Inspecting crime scenes and securing evidence
Conducting searches of suspects and general patrol of areas to search for illicit items, missing persons, or evidence
Citing and/or arresting individuals, filing police reports, and testifying in a court of law
A K9 unit is allowed under law to use their dog to enforce the law whilst in public and on patrol. Police dogs have been trained to pursue suspects that attempt to escape from law enforcement.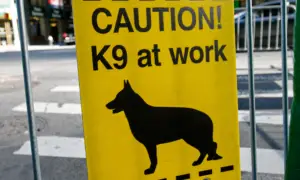 K9 unit dogs are usually also trained in specialist areas. This can include:
Identifying narcotics/ Smuggled goods
Performing search and rescue
Detecting accelerants at the site of fires to identify arson
Locating humans/ human remains
In the case of search and rescue, these dogs can be trained to sniff out living victims and deceased humans' remains.
As a result of their superb sense of smell and stamina, they are able to trek through miles and miles of forest to look for someone stuck in the wilderness and can even locate the bodies of drowned victims underwater in oceans and lakes. This extraordinary ability of dogs to cover a large amount of ground in a short time comparative to humans is a valuable resource in search and rescue operations.
How To Become A K9 Unit Police Officer
Becoming a K9 officer is no easy task. There are a few positions available in the field compared to other law enforcement positions. We have listed 13 steps you need to complete to become a K9 Unit Officer
To become assigned to the K9 unit is a highly coveted position in the world of Law enforcement.
Becoming a K9 officer requires education, certification, and a certain level of experience.
Education Requirements for K9 Officers
A K9 officer must have completed high school. An associate or bachelor's degree in law or police science will greatly help with the police academy and your application for a K9 officer. A degree could also facilitate advancement from local law enforcement to the state or federal level, resulting in a possible higher salary.
License and Certification Requirements for K9 Officers
Requirements for licensure or certification vary depending on state, industry, and job level. For example, one state may require K9 officers to complete a training course, whilst another might require certification from a professional in order to work as an officer of the K9 Unit.
Even when not required, certification drastically improves the officer's employability and even possibly their salary. The United States Police Canine Association, which trains and certifies, offers professional certifications for K9 officers and police dog trainers.
Experience Requirement For K9 Officers
Before applying for a position in the K9 unit, officers have to accumulate 1-2 years of experience as a police officer. K9 officers must be active officers with good rapport. Only after showing competency as a police officer can applicants gain experience working with trained police dogs. After training with a police dog, K9 unit officers gain experience working with their own canine partners. Officers will have to earn this experience on the job and learn the associated skills require for a K9 unit officer, including tracking, animal handling & animal safety in large crowds of people.
Locations
A location such as a state, city, or county influence salary, job availability, and requirements. Highly populated urban areas are known to hire the most K9 officers. 
How much does A K9 Unit Officer Make- K9 Officer Salary

Specific information is not provided by The US Bureau of Labor Statistics on how much a police dog handler or a K-9 unit officer earns on average. To draw an estimate figure for a K9 unit officer we would have to look at a similar position, which is that of police officers – the median salary was $61,600 in May 2016. Officers of the K-9 units differ as they are required to learn a bit more than the other policemen who have a similar rank and experience because of the additional responsibilities they have due to being in tasked with the care of a canine.
Figures submitted on Pay Scale provide information to calculate the median salary of a K-9 officer, which is $35,913, however this is not an exact estimation as pay ranges between $28,383 and $82,851.
Simply Hired can also be seen as a reliable source from which information can be drawn on the salary of a K9 unit officer this data is based on third party submissions to their site. According to the available data the average salary of a K-9 officer amounts to $62,143 and ranges from $33,044 to $116,868.
An important factor to consider is that the minimum wage will vary depending on the jurisdiction. It is recommended that applicants check with the employing agency for an actual salary figure and possibility for growth and promotion within the position. The level of Education and experience the applicant possess also influences the annual salary a K9 unit officer will receive.
As previously stated; Location, Job Availability, and Work Expectations greatly influence salary. An example being that Large, Highly populated urban areas are known to hire the most K9 officers.
Salary and the earning potential differ based to the type of agency and jurisdiction by which you may be employed. Along with the regular salary, officers may receive added compensation. An example of this being, the California State Highway Patrol, which pays K-9 officers an additional $156 per month, as of 2018.
Federal K-9 officers have a set salary accompanied with a promotion schedule. This means that a K-9 officer working for the border patrol officer who may have had a salary of $52,583 in 2017 could start earning $97,486 by 2021.
| | |
| --- | --- |
| TOP-PAYING STATES | ANNUAL MEAN WAGE |
| California | $105,220 |
| Alaska | $87,870 |
| New Jersey | $86,840 |
| Washington | $80,200 |
| Hawaii | $78,720 |
Is a Career as a K-9 Officer Right for You?
Many people may be firmly drawn to this role due to their love of animals. K-9 officers have the rare opportunity to work with a canine companion who is highly trained. You would be hard pressed to find a job that is as enjoyable or rewarding as a K-9 officer. 
K-9 unit officers also are assigned to critical tasks such as finding missing persons, Halt the trafficking of narcotics, Locating and apprehending dangerous perps. If you are interested in law enforcement and have a love of animals, this job combines the two aspects, making this the perfect criminal justice career. 
Where Can I Work as a K9 Officer?
There are a variety of career paths as a K-9 officer that you can take and develop further. One factor to consider is that basic things to consider are that you can work in law enforcement at the local, state and federal level and the military. 
Other agencies employ police dog handlers, such as the Custom and Border Patrol (CBP), Drug Enforcement Agency (DEA) and Transportation Security Administration (TSA).
In addition to the placements mentioned above, K-9 unit officers and their dogs may also be placed on patrol of; airports, harbours, or borders or in searches in prisons, schools, or other places.
 Work Schedule
K-9 partners frequently work nights and weekends, and they have to be on call ready to respond to incidents at a moment's notice. Paid overtime for K-9 officers is common.
The handler is responsible for their dog at all times, even when off duty, as the dog lives with the officer and their family.