HOW LONG DOES IT TAKE TO BECOME POLICE OFFICER ? FULL GUIDE
A police officer is considered as the most respected member of society who is expected to be responsible, decision making and confident enough to solve any issue. Both mental intelligence and physical fitness is needed. The basic characteristics of a good police officer are competent and cooperative. Competent implies to constantly good performances and cooperative signifies easily getting adjusted to any situation.
To become a good police officer in the world's biggest superpower nation The United States of America, it is going to be a tough job. Becoming a police officer in the USA is not everyone's cups of tea. It comprises of a long journey and first thing you want to know How long does it take to become a police officer, with critical challenges on its way. efforts made by excessively hard work and struggle, results in a long-lasting and lifetime reward.
Many individuals who desire to become a police officer irrespective of age, previous qualification and present profession. A candidate is required to complete a graduation degree successfully. Being a graduate is the basic eligibility criteria for fulfilling the dream of becoming a police officer. Department of police have several streams or agencies, all have their respective age criteria. The features of a police officer are very common and know to almost everyone.
A police officer is the first point of contact in case of any criminal offense. He or she is the one who first responds to the incident reported in case of emergencies such as robbery, murder, rape, violence and many more. Based on education and experience, enormous opportunities are open for this privileged job.
It depends on a candidate how good he performs in eligibility and readiness programs. Many agencies demand for special training programs apart from qualification like graduation, high school diploma. Still, everything depends upon you and your choice of the department you make.
To understand the time duration involved in pursuing the carrier as a police officer, please go through the upcoming important necessary points of becoming a police officer.
The lists involve police schooling, academic requirements, academic pieces of training, educational requirements for police officers, police academy training, education requirements of police officers, police officer's application process, police officers hiring process, graduating from the police academy and probation period.
ACADEMIC JOURNEY
The freshers or recruits are required to go to Training Schools in the USA. It is also known as the law enforcement academy. Amongst them, there are many colleges and universities as well. This academy prepares the freshers or recruiters for the department which they will be given after completion of their graduation.
Multiple background checks are carried to understand mental requirements, physical requirements, potential, professional confidence and many more. These schools offer lists of courses that will certify the new joiners as law enforcement officers. There are two types of police schooling, one is state level and another one is a local level. The curriculum offered by state-level police academy may vary from local level police academy depending upon the needs and necessities.
Generally, basic police schooling is of 6 months duration. It is a full-time course that requires a constant and permanent promise from recruits and their family members. This promise is unconditional dedication, sacrifice, and sincerity towards work.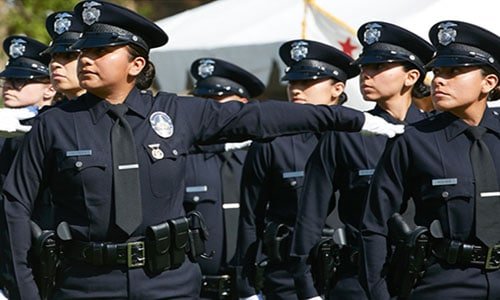 This schooling law of enforcement teaches various phenomena like a murder investigation, traffic management, patrolling, fire emergencies, domestic violence, dealing with emotional scenarios, writing a report, techniques of defense and attack, accidents incidents, First aid or CPR, operation of police vehicles, robberies and lot more.
There are several points that are meant to keep in mind before applying for police academics.
A person should be free from any criminal offense.
The past history of the candidate should not have any criminal arson. It is important that a candidate must be a permanent resident of the united states of America.
He or she should be a citizen of the united states.
Make sure that recruit is above 18 years of age. In order to rule out any criminal record, ensure that the candidate is fingerprinted in all kinds of records available at local, state and national fingerprints files.
There will be a deep-rooted investigation of background life. Thus, try to maintain a good and well behaved moral character reputation.
The minimum qualification required to commence police academic training is graduation. Bachelor's degree in law enforcement or related discipline is a basic prerequisite to apply for police academics.
The reading and writing tests are held which are compulsory for the candidate to PASS. There is also a physical eligibility test conducted which is again compulsory to PASS. 
All the scores attained in these tests are of great significance. Hence, it is better if the candidate gets a good score in all the qualifying tests. Apart from all this, medical clearance is also required.
One should get clearance from the medical department and collect related documents as proof of medical insurance. These are the fundamental academic requirements towards the commencement of police academy training.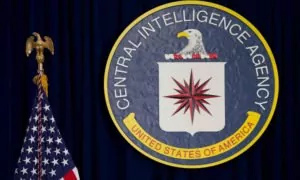 DEGREES OF A POLICE OFFICER
No matter whatever process you follow to become a law enforcement officer, you are required to attain certain degrees relevant to the department you wish to apply.  The classes can be both online and offline depending upon the school, universities or college. Below is the explanation of duration involved in the process of attaining this degrees-:
ASSOCIATE DEGREE-: It is a full-time course which is generally 2 years.  This course is available both online as well as a regular classroom course. This degree provides knowledge and information required for qualifying academic entrance examinations. This degree is the foundation stone of law enforcement officers. The curriculum of an associate degree course may vary from college to college depending upon requirements of local and regional departments.
BACHELOR'S DEGREE-: It is a full-time course which is generally 4 years if done regularly. As per ease, you may finish it in three and a half years by attending extra classes. You may also increase the duration to 5 years by pursuing the degree part-time or online mode.
MASTER'S DEGREE-: It is a full-time course that finishes in 2 to 3 years.  Again, it is available both online and offline mode depending upon the interest of a candidate.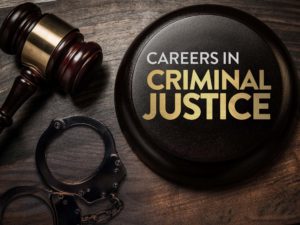 CERTIFICATES AND TRAINING
People who aspire to become a law enforcement officer, it is always advisable to undergo various training and standard. Even if you have not completed your degree, you can avail of certificate courses simultaneously. The following are various training and certificate programs-:
CRIMINAL BEHAVIOR: This course explains the mindset of a criminal. It is often termed criminology.  All information, knowledge, explanation related to the behavior of a criminal is covered in this course.
PROCESS OF JUSTICE: In this section, students will learn about their process or method of giving justice to the innocent and giving appropriate punishment to the culprit.
CRIMINAL PUNISHMENTS-: This provides knowledge about different punishments and rehabilitation.
TYPES OF CRIME-: It explains different types of crimes and its impact.
IMPORTANT ETHICS-: It teaches the difference between ethical or unethical fundamentals given by police.
PLANNING OF MODELS-: Building up the skills of investigation, intelligence gathering.
EMERGENCY PLANNING-: It explains about instructions received by students and risk management tools and techniques.
STATISTICS OF CRIMINAL-: With all available facts and figures, the candidate should be able to detect logically.
PROFESSIONALISM-: Students will learn about leadership and management tools and techniques.
PLACEMENT PROCESS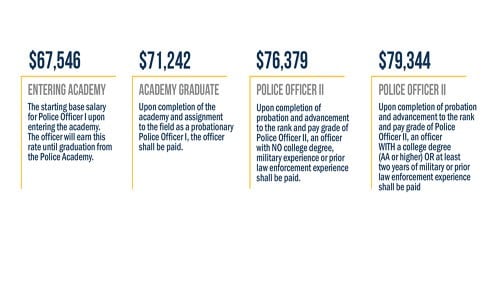 Candidate should enquire about all the job opportunities available in the law enforcement department. Find the best opportunity which is relevant to your profile.
Ensure that before filling up an application form, you satisfy all the criteria of that particular opportunity. Every detail must be correctly filled. A small mistake can disqualify the application process.
It depends on the department how much time is needed to process an application. Although, this process takes a bit longer time as this involves background verification, investigation of details filled, etc. 
Generally, it takes around three to four months to check the filled application. Once, the cross-checking is finished, departments initiate the hiring process. It is always advisable that the candidate should prepare well for an online examination.
The hiring process of a police officer is comparatively tough and critical than other examinations. It is not limited to an entrance exam or interview. It first starts with a written exam. The intention behind taking this written exam is to make sure that the applicant is having a basic knowledge of general subjects and world affairs.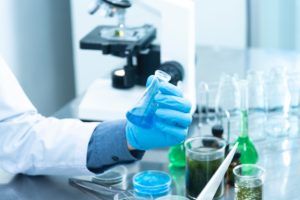 The course of an entrance exam involves analytics and reasoning, basic English comprehension reading, spelling, etc. The questions may be written, multiple-choice, fill in the blanks or true/false. Candidate should get a minimum 70% score to qualify and move to the next level. The second level is a physical ability test (PAT). This test is to judge the fitness level and physical stamina of a candidate.
Depending upon the department you chose, agencies set different approaches to examine the candidate. The candidate should meet all the criteria listed by agencies to qualify the tests. Thirdly, a medical examination is conducted to ensure that the candidate is healthy and fir to commence the job of a law enforcement officer. Candidate must have a good past track of records about character, nature, and reputation. A candidate must have a white-collar personality.
All these factors are required for the background verification process. Even if a candidate scores well in exams, if any discrepancy is found in background verification, a candidate is immediately disqualified from the placement process. There should not be any criminal offense report, drug abuse, bad financial records and many more.
One more test performed is polygraph tests. This test validates the information provided by the candidate is correct or not by undergoing a polygraph exam. The candidate answers a given set of questions. The later examiner checks the answers with the machine, analyses the results and based on readings attained and personal experience, the examiner finalizes the judgment. On successful completion of polygraph tests, a candidate is asked to have a meeting with a specialized psychologist. In this meeting, a screening is done by the psychologist to understand if a candidate is ready to go ahead for face to face interview.
The final round is face to face interview round. After successfully qualifying all the previous levels, the candidate appears for face to face interview. The selection panel contains interviewers who will ask several questions to explore your knowledge, readiness, response, intelligence, presence of mind and confidence. This discussion will decide if you are suitable for the desired opportunity or not.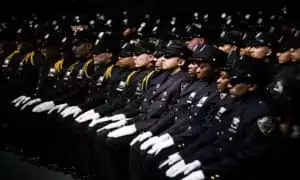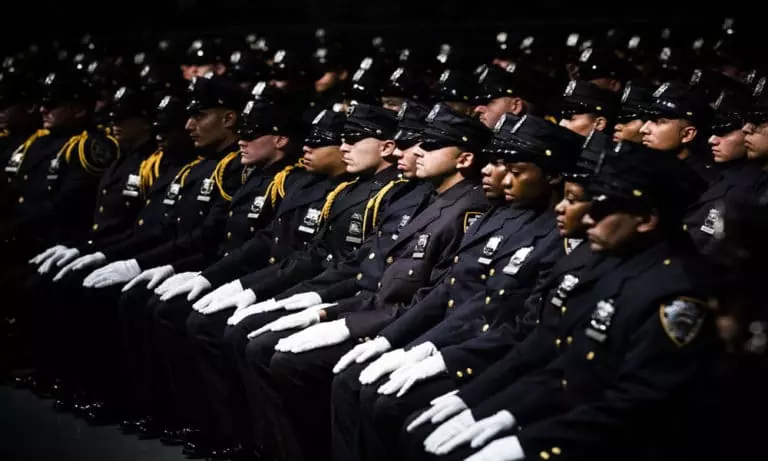 It is the last phase of the journey of becoming a police officer. On completion of the hiring process, the candidate is sent to Police Academy for training. It is equally important and tough like other previous levels. Due to bad performance, a candidate can get rejected at this stage as well. In Police Academy, a candidate goes through physical and theoretical training.
The use of ammunition, self- defense techniques, attacking tricks, catching up criminals, driving skills, first aid, knowledge related to laws and lot more are taught here. The overall time duration involved is approximately 6 months maximum. Finally, a day comes when you get successfully graduate from Police Academy and join the service in your respective department.  Initially, you work with senior staff members and get training on LIVE cases.
This temporary period of the job is also known as a probation period. Normally, it takes around 6 months to complete and get a permanent and regular member of staff. Still, the time period of probation gets decreased or increased depending upon the circumstances. In case if you fail to perform, you may get suspended from service.
Hence, it is important to be a consistent performer at each and every step. In short, the entire process of becoming a police officer consumes five to six years of your life. Hence, it is always good to plan your moves accordingly. Various states of the United State of America have their own set time duration required for completing law enforcement training.
These criteria are designed by the local police department which is further approved by state and national headquarters. The following table will give you a brief overview of time duration involved in completion of the police academy training program of different states-:
HOW LONG DOES IT TAKE TO BECOME POLICE OFFICER ?
| | | |
| --- | --- | --- |
| STATE | DURATION IN POLICE ACADEMY  | DETAILS |
| CALIFORNIA | 26 WEEKS | As per standards of California P.O.S.T |
| FLORIDA | 6 MONTHS | 8 am to 5 pm, Monday to Friday |
| NEW YORK | 6 MONTHS | New York City Police Academy |
| ILLINOIS | 480 HOURS | Illinois Law Enforcement Training and Standard Board : SLEA |
| PENNSYLVANIA | 22 WEEKS | 7am to 5pm, Monday to Friday |
| NEW JERSEY | 24 WEEKS | Sea Girt, New jersey State Police Academy |
| GEORGIA | 11 WEEKS | Entry Level Law Enforcement Officer |
CONCLUSION
'Efforts are luck', this famous phrase seems to be true when a deserving candidate fulfills the desire of becoming a police officer in the USA. Of course, it is a path of tremendous struggle and sacrifice. It is a collaboration of intelligence and sincerity, knowledge and consistent performance. If you want to be a law enforcement officer, you should have the stamina and patience to complete it with success at every step.
Frequently Asked Questions
HOW LONG DOES IT TAKE TO BECOME POLICE OFFICER ?
How much does it cost to become a police officer?
Costs generally around $5,000, and some police offices will reimburse a level of that educational cost upon work. In the wake of getting your confirmation, you would then be able to apply to turn into a Police Officer in that state
Do you get paid while in the police academy?
Officers receive their full starting salary while training at a academy . Successfully complete the six months of academy training and you get a increase in salary. Based on the local department where you're employed , This salary increase are often the maximum amount as $2,000 or $3,000 what you earned while training.
What will disqualify you from being a police officer?
Moral depravity conviction: crimes of theft, of deception or fraud, or that otherwise demonstrate poor moral character are disqualifying. Excessive minor offenses.
HOW LONG DOES IT TAKE TO BECOME POLICE OFFICER ? FAQ
There are two types of police schooling, one is state level and another one is a local level. The curriculum offered by state-level police academy may vary from local level police academy depending upon the needs and necessities. Generally, basic police schooling is of 6 months duration. It is a full-time course that requires a constant and permanent promise from recruits and their family members. This promise is unconditional dedication, sacrifice, and sincerity towards work.
How long do you spend in police academy?
| | | |
| --- | --- | --- |
| STATE | DURATION IN POLICE ACADEMY  | DETAILS |
| CALIFORNIA | 26 WEEKS | As per standards of California P.O.S.T |
| FLORIDA | 6 MONTHS | 8 am to 5 pm, Monday to Friday |
| NEW YORK | 6 MONTHS | New York City Police Academy |
| ILLINOIS | 480 HOURS | Illinois Law Enforcement Training and Standard Board : SLEA |
| PENNSYLVANIA | 22 WEEKS | 7am to 5pm, Monday to Friday |
| NEW JERSEY | 24 WEEKS | Sea Girt, New jersey State Police Academy |
| GEORGIA | 11 WEEKS | Entry Level Law Enforcement Officer |
Powered by HTML5 Responsive FAQ
References:
Summary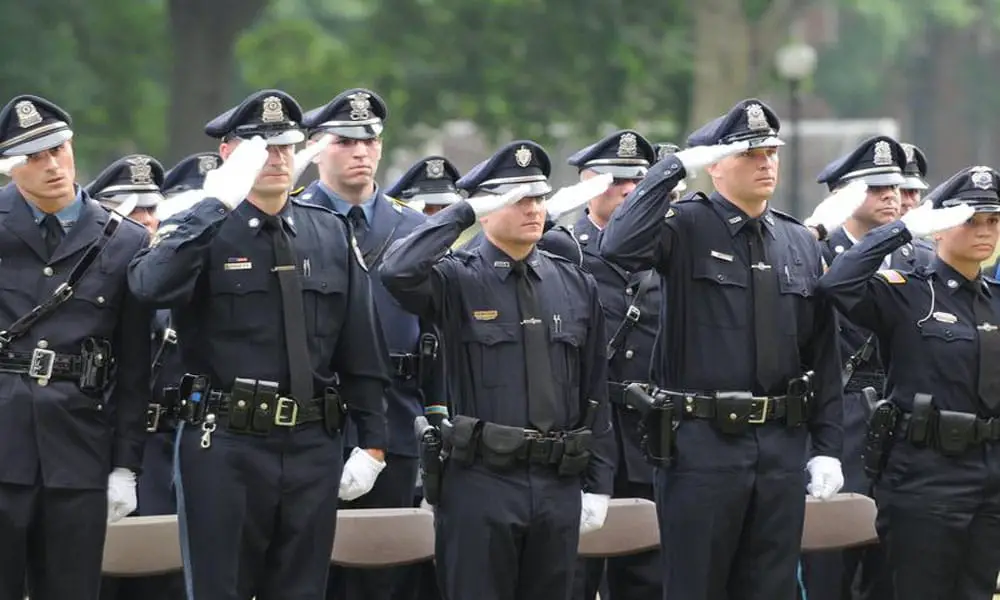 Article Name
HOW LONG DOES IT TAKE TO BECOME POLICE OFFICER FULL GUIDE
Description
A police officer is considered as the most respected member of society who is expected to be responsible, decision making and confident enough to solve any issue. Both mental intelligence and physical fitness is needed. The basic characteristics of a good police officer are competent and cooperative. Competent implies to constantly good performances and cooperative signifies easily getting adjusted to any situation. To become a good police officer in the world's biggest superpower nation The United States of America, it is going to be a tough job
Author
CRIMINAL JUSTICE JOBS TEAM MEMBER
Publisher Name
Publisher Logo